Management Philosophy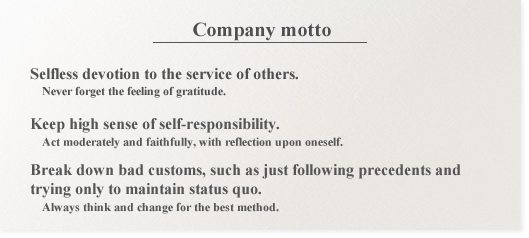 Action Agenda
This action agenda is to show that officers and employees of the Koganei group will each and all take act, based on the same value and ethics to contribute to the society through business development.
1. Compliance
As a member of the Koganei group, we will be proud and conscious, comply with laws and internal rules, and act with common sense showing respect to social norms and fundamental human rights.
2. Communication with our stakeholders
We will establish close relations with our "customers, business partners, shareholders, and social communities" through deep communication.
3. Self-development of employees
We will always devote for self-improvement, faithfully carry out business, and make effort so that our company can support self-improvement of our employees.
4. Protection and conservation of the global environment
We will never forget environmental considerations through out all business activities, and contribute for the realization of a sustainable society.
5. Maintenance and development of social order
We will cooperate with the society for the maintenance and development of social order, by avoiding contact and relations with any anti-social forces, and show resolute stance against illegal or unreasonable demands.
April 1, 2016

President Yoshimitsu Okamura